As far as skateboarding, day five of X Games 2010 wrapped up with the Women's Street Final and the Park competition final for pros and legends. The fervor's usually died down by the last day and it's more like smooth sailing from then on. Whether you've been working the last five days, actually skating or just watching, Sunday at the X Games feels like a Sunday anywhere else - kinda sleepy. Still, there's a little to witness, here, so enjoy. Thanks again to Olympus, everyone who made the whole event possible and Mike Sinclair for some pics. I just spiked my Olympus Stylus Tough 8010 into the ground in excitement and it's still working. Stoked.
There wasn't a ton from the girl's street finals, but what did go down was pretty rad. Leticia Bufoni was ripping. In the end, she secured second with Alexis Sablone taking first and Marisa Dal Santo in third, after having won the last two years. Well deserved for Alexis.
Remember
?
Bastian Salabanzi and Converse's Steve Luther watch the ladies. The ladies did great, but the vibe was mellow.
Then, some of the dudes from the Real Street contest started rolling around, showing that the skills are not only for video. Nick Trapasso with a back lip.
Tommy Sandoval with a frontside ollie in the tea cup.
Nick T smithereens.
An as always casual back lipslide from the top.
Boosh, Nick T and Sierra Fellers cruisin' the course.
Nick T back D.
Chris Pastras asks Tommy Sandoval questions about Real Street and living in the virtual world.
Sandoval and his lady watch on to see who won. And…
…it's Nick Trapasso in first, Tommy Sandoval in second, Tony Tave in third, Sierra Fellers in fourth.
The face of stoke mixed with a dab of confusion of what happens next.
Then, Pat "The Sinner" Pasquale was celebrating the Real Street with the homey Nick Trapasso.
You know Windsor James was all up in there cheering everyone on, especially his teammate.
Now that's a podium. From left to right, Tommy Sandoval, Nick Trapasso and Tony Tave.
Nick Trapasso
got first,
Sandoval
got second and
Tave
got third.
"This is crazy, man. Lemme get a picture of you." Tony Tave fans out on the competition.
The face of excitement and a solid $50,000 prize. Good on ya, Nick.
Legends finals went down. Two of these dudes finished in the top three. Chrisitan Hosoi got first and Steve Caballero got third. Lance got fifth and Chris Miller (not pictured) got second.
Then the park finals went down after that.
Rune was rolling, but he couldn't get into the top three. Lipslide the pool corner coping.
Curren Caples continued his destruction. Frontside flip to fourth place. There was some uncertainty there, as
Kevin Kowalski
seemed to tie with Curren, but Kowalski finally took third.
Andy MacDonald was at it, as always, in those plaid shorts. Dude kills it, coming in second behind Pedros Barros and his ridiculous 540s. For more of an insider feel from the park and the X Games as a whole, check
day 1
,
day 2
,
day 3
and
day 4
as well.
To see more Olympus X Games Coverage, click here.
Monster Press Release:
Tonight Pierre-Luc Gagnon (PLG) made history by winning gold in Skateboard Vert and taking home Gold in Best Trick. Happening at the Nokia Center in downtown Los Angeles, tonight marks the first time a skateboarder has won X Vert three times in a row.
When the pressure was on, PLG delivered late in the final. Needing big scores to take down Shaun White, he dropped in and chalked up a 47, and immediately followed that on his next run with a 46. Despite back-to-back 540's in his first run, what put PLG over the top was his frontside heelflip 540 body varial, a trick never done before at X Games. His second run was epic as well, and included a 720 kickflip body varial. Those two scores—nearly perfect—were unstoppable. PLG also did a nollie varial Indy 540, which secured Gold in the Best Trick.
"I was feeling good in practice, and I can't believe I pulled it off," said PLG in his post-win interview. "I'm super psyched. It hasn't really settled in!"
Check out
monsterenergy.com
for more on PLG and the rest of Monster Energy's world-class team competing at X Games 16.
Pedro Barros wins Skateboard Park gold
After nearly four full days of watching past X Games champions repeat, three-peat, and even four-peat, a new hero for a new generation finally emerged in the Street Park Final Sunday night at L.A. Live. Fifteen-year-old Brazilian Pedro Barros, who was first introduced to the viewing public at Thursday night's Big Air Final (in which he was the youngest competitor by five years), has taken down X Games veteran stalwart Andy MacDonald in a concrete duel.
Barros was the number one qualifier to the Final out of Friday's Elimination round, on the strength of runs that combined the sort vert skills that have marked past Park events and the sort of fast, flowing lines that this year's smaller, more open course demanded. He brought similar flair on Sunday, throwing several 540s (and nearly making three in one run at one point), combined with huge transfers across nearly every gap on offer -- including a huge ollie tail grab over the big rail and a low-to-high frontside smith grind on the biggest wall in the course.
Barros spent much of the jam session tied with MacDonald at 81, but the 36 year old failed to really alter his runs at all, even after Barros leapt into the lead on the final run of the session. MacDonald's run -- as has normally been the case over the course of his 14-year X Games career -- was technically difficult and not a whole lot different than years past. He threw rodeo flips, kickflip indies over some of the bigger gaps and found a few transfers that his competitors didn't. When he crashed on his fifth and final (and exactly the same) run, Barros threw his fists into the air in celebration.
""We're young, so we have more energy and get more hyped up," Barros said afterward, referring to the youth explosion that marked the final results. Eighteen-year-old Kevin Kowalski won a tiebreaker with 14-year-old Curren Caples to take the bronze, relegating 37-year-old Bucky Lasek to fifth. Two-time and defending champion Rune Glifberg and perennial fourth-place finisher Omar Hassan failed to advance to the final session.
When asked if he ever considered walking away from X Games with a gold medal, Barros said no way. "I was just thinking about walking away happy and that's what I walked away with."
Sheckler wins third X Games gold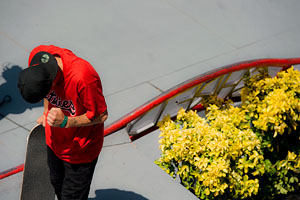 Mark Kohlman/ESPN Action SportsAfter an ankle injury took him out at X in 2009, Sheck is back to form.
Ryan Sheckler has won his third X Games gold, edging Nyjah Huston by less than one point as the clock ticked down on Saturday's Super Final. Sheckler took the lead in his first of five runs, in what was essentially a warmup -- albeit a warmup that included a kickflip backside boardslide on the rail, backside kickflip down the gap, a huge switch kickflip that he barely landed and a backside tailslide down the ledge that earned him a 90.33.
With skaters given 45 seconds or two crashes per run, Sheckler appeared to have a solid hold on things until the third run, when Huston popped off a run that included a 360 flip up the gap, a switch heel to manual down the ledge, and a backside 270 boardslide. The run earned him a 91.33.
While both Chaz Ortiz and Ryan Decenzo threw a variety of bangers in their runs, both were plagued by untimely crashes that kept them from fully challenging Sheckler or Huston.
At his next opportunity, Sheckler seized the moment, stringing together a kickflip to boardslide, a big frontside air in the tea cup, a backside flip up the gap, a cab 360 lipslide down the rail into a frontside blunt in the little tea cup transition. The run garnered a 92.00 -- cementing the podium despite Huston and Ortiz each having one last shot at Sheckler's lead.
Sheckler acknowledged that he wanted redemption after last year's X Games, when he sustained an ankle injury that derailed most of the last year. "I chose X Games because I got hurt here last year and wanted to prove to myself I could come back and get a gold," he said, taking time to also acknowledge the rabid fan base that was evident in the crowd.
"They're yelling the whole time," he continued. "You don't want to let them down, so you skate your heart out and do the best you can do."
PLG makes it three
Despite Hollywood-level hype surrounding Shaun White's return to skateboard competition Friday night at the Nokia Theater, it was two-time and defending Skate Vert champion Pierre-Luc Gagnon who did what skateboard insiders figured he would all along: win the first ever Vert three-peat in X Games history.
Gagnon, a relentlessly technical skater known for composing entire runs of tricks that many of his competitors can't even do, was initially put in a corner by White, who threw the first stellar run of the evening on his fourth attempt of the final jam session. In a run peppered with back-to-back 540 variations, he ended with a frontside heelflip 540 body varial -- a trick never seen at X Games. The run scored a 44 to put White in the lead.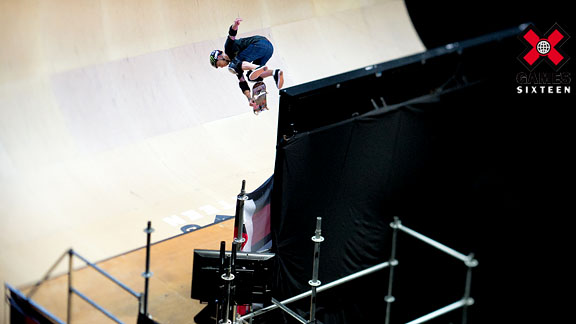 Mark Kohlman/ESPN Action Sports
Pierrre-Luc Gagnon
won the first-ever Skate Vert three-peat at X Games 16 Friday night.
It was in the fifth round of runs that Gagnon, who had already garnered a 47 in his fourth run, put the hammer down. In a run that included a variety of 540s, he not only put down a 720 kickflip body varial; he adjusted the board mid-air just microseconds before returning to the transition, saving what appeared to be a certain crash. The run earned him a 46, for a total of 93 points -- eight ahead of White.
Needing a near-perfect 49 to retake the lead, and with the clock on the jam session ticking down, White dropped in one last time, but failed to complete his run.
"I felt really good in practice, nailing it every try," Gagnon said afterward, of the trick that earned him the win. "I knew it didn't matter if I didn't make the first few, but I'm super psyched I pulled it off."
The medal is Gagnon's sixth gold and fifteenth overall.
Jake Brown Skateboard Big Air Gold
Publish Date: Jul 30, 2010, 12:13 AM ET Duration: 02:41
Skateboard Rail Jam Bob Burnquist Gold
Publish Date: Yesterday, 03:03 AM ET Duration: 00:36