It's with sadness that we report the passing of original Dogtown skateboarder Bob "The Bullet" Biniak. Biniak suffered a massive cardiac arrest on Sunday and passed away in the early hours of Thursday at the Baptist Medical Center in Jacksonville, Fla.
Born in 1958, Biniak was an original member of the seminal Zephyr skateboards team in the 1970s. Biniak competed in the 1975 Del Mar Nationals where the Zephyr team turned the skateboarding world on its head with revolutionary riding and undeniable style. In the 2002 documentary, "
Dogtown and Z-Boys
," Biniak described the team's clash with the skateboard establishment at Del Mar, "Like a hockey team going into a figure skating match."
Biniak was a frequent face in mid-'70s issues of Skateboarder magazine. He was often photographed by Glen E. Friedman. Friedman has a heartfelt remembrance of Biniak with many classic photos posted on
his blog
.
Following his stint with the Zephyr team, Biniak rode for Sims and later Logan Earth Ski. Later in life Biniak pursued a career as a pro golfer even playing in the Sectional Qualifying round on the US Senior Open as recently as 2008. Biniak is survived by his wife Charlene and daughter Brie. Biniak's influence in skateboarding, especially his powerful pool riding and fearless pipe riding will be remembered with fondness.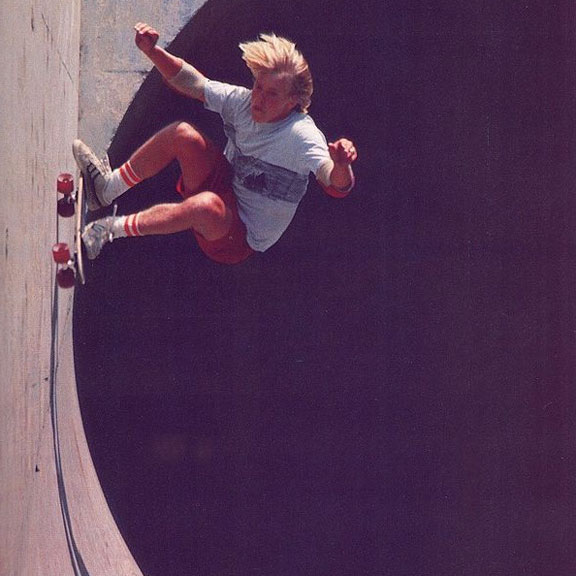 Warren Bolster courtesy of
Skateboarder
magazineBob Biniak riding the Mt. Baldy pipe in 1976.