A few years back, when Rasa Libre came out, it was something new and exciting with art direction by, among other people, Michael Leon. But, when Rasa disappeared, as a result of some differences about direction, it left Forbes without a sponsor. With fellow pro
Brad Staba
working on a burgeoning project at the time—
Skate Mental
—Forbes came aboard. As Skate Mental has grown, Reese has also taken on the duties of constructing the
Quiksilver
skate team, split between the two. Now, with new opportunities on the rise and a chance to connect with Michael Leon again, Forbes is looking forward to a new venture. Coming a long way from Washington D.C.'s Pulaski plaza to Southern California, Reese talks about his new project, how skating has changed as he's moved and why he left Mental.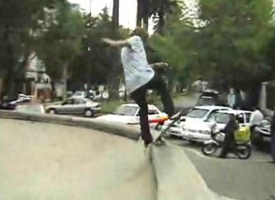 Mystery enshrouding Trapasso as he noseblunts in Mexico.

Dear Chuck,
Good work on the "Prevent This Tragedy" video. Diggin' the kicks, too. I have fond memories of saving up my money and buying a pair of blue Chuck Taylors at the store, while my friend would buy red ones. Then, we would swap one shoe, so we would have one of each color, kind of how
Geoff Rowley
still does it. Anyway, classic shoes. But, I'm writing you today to thank you for the
bonus footage
of "Prevent This Tragedy." I'm currently recommending that people watch it.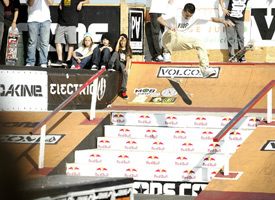 Ben Karpinski

A bigspin heel at Damn Am, on his way to a second win at Tampa Am and a new pro career. It's been a good year for Luan.

I went to Brazil once and, ever since, I've had a place in my heart for Brazilians. It was almost ten years ago when I visited Rio de Janeiro (pronounced Hio de Janeiro), which is nothing like Porto Alegre, the place where
Luan de Oliviera
is from, but whatever—I'm just trying to pretend like I have some sort of kinship here.
If my memory serves me, I went down to the beach expecting women in those bikinis that barely cover their lady parts and found that nobody goes to the beach in Rio in their winter, which is still so uncomfortably hot that they put anti-melting agents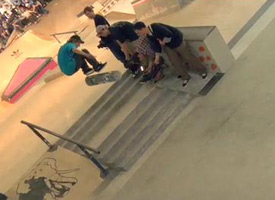 Screengrab

Close your eyes so you're just looking out little slits. There you go. Now you're seeing the world the way Bledsoe sees it.

If you were as high as
Tyler Bledsoe
, skating might turn into little more than a spiral of smoke, which you could bend and move around your finger as you swipe at it's stream...or, maybe it's way less poetic than that. Maybe he's just so high that he's not cluttering his mind with the extraneous thoughts that plague the rest of us. Who knows? But, whatever he's doing, Bledsoe makes difficult skateboarding look like someone doing a playful jig. Watch him dance in Fourstar's
all-Bledsoe edit
of the Gang of Fourstar tour.