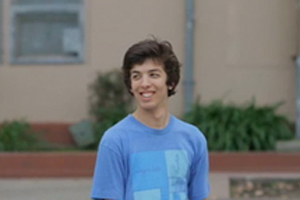 LakaiWelcome aboard Daniel!
After a short stint on Adio, young Daniel Espinoza's skills caught the attention of the good folks at Podium and he's found his way into a comfy pair of Lakai shoes with a solid spot on their am team. Will the phenomenon from Fontana be announced as the next edition to Chocolate skateboards soon as well? Time will tell. Either way, Espinoza's future is looking bright.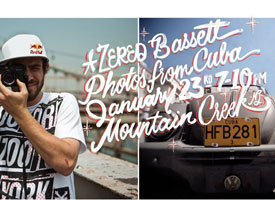 Courtesy of Zoo York

Zered's pictures from Cuba are pretty eye opening.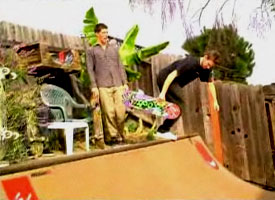 Chris Nieratko

The father to be crushing the minramp.

You might remember last year when I gave
Krooked
am,
Mike Anderson
some faulty advice on how NOT to get a girl pregnant and then two weeks later his girlfriend
Daisy
was prego. Well, 13-months sure does fly by when you're hving fun and Anderson and Daisy's daughter Lyla is less than a month away from being born. Last week they held a baby shower and miniramp jam at Anderson's parent's house in Ventura.
éS footwear was kind enough to bring me out, seeing as how the whole beautiful mess is my fault. Also in attendance were Danny Garcia, Torey Pudwill, Scuba Steve, Bobby Worrest and more.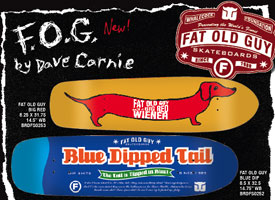 Courtesy of Fat Old Guy skateboards

Skateboarding's no lnoger for just the young or the svelt.

With so much of America concerned with weight loss and health I like that a brand has stepped up to let us fat guys know that we are beautiful just the way we are. And who better to helm this aged ship of lard than one of skateboarding's favorite fat old guys:
Dave Carnie
. Aside from being the former editor for the now defunct Big Brother magazine Dave is also a world renowned artist, foosballer, dancer and singer. It appears 2010 is the year of the Carn Carn with the release of Fat Old Guy, Dave's upcoming book as well as his reality show where he tries to find a chill neighbor.
Yup, Carnie's back, hide your beer.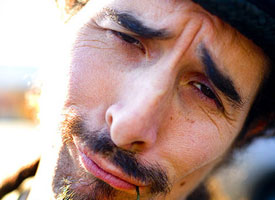 Courtesy of Ipath

Mat Rodriguez is one of skateboarding's unsung godfathers of style.

As one of
Stereo's
original members and a partial brainchild behind
IPath
,
Matt Rodriguez
has always brought originality and style to everything he does. Out of San Jose, he made a name for himself in San Francisco, but made a home in Sacramento, all while staying homies with Cardiel and approaching everything with a Do-It-Yourself attitude. Get some Rodriguez history, heated by the habaneros tucked into his knitted hat. Enjoy.
Full Interview »
A couple of cool events are going down in the greater NYC area this week that you won't want to miss if you live in the tri-state area. First, the good folks from
KCDC skateshop
are hosting a benefit for the people of Haiti on Thursday night. If you're in Brooklyn and you're over 21, come by the shop between 9-12. Bring some canned goods, clothing or cold hard cash to get in the door. Once you're in, there's a ramp to session, OG Rookie rider
Sean Kelling
killing it on the ones and twos, free beverages provided by Brooklyn Brewery and a performance by Natur.