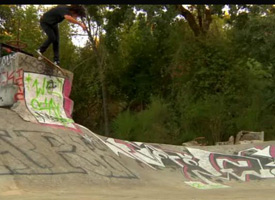 Courtesy of Adidas

Vince Del Valle and the whole team cuss up the whole Bay area.

Not only does Adidas have a
newly designed skate site
up starting today, but they have their new line of shoes and a
gangster-a** video
of the team skating San Francisco (did someone say Tim O'Connor rebirth?). Be the first to see it.
Sometimes I feel like I probably don't get the joke. In fact I know that can be the case. I'm often too literal-minded and sarcasm (especially written, Internet sarcasm without facial expressions) sometimes goes right over my head. So here's what I'm trying to figure out: Does
Ernie Torres
ride for
Ambiguous
or not? The whole video joke is just too ambiguous (get it?).
It would seem that Ernie would fit on the Ambiguous squad with his penchant for tight black jeans (they make a lot of those) and his Real teammate and homie JT Aultz already repping the squad. I'll say this, the last time Ambiguous made a "Doesn't Ride For Us" video it was of Sean Conover who is now listed as one of their team riders. So maybe Big Ern does ride for Ambiguous now? Time will tell. Either way, this video is pretty tight.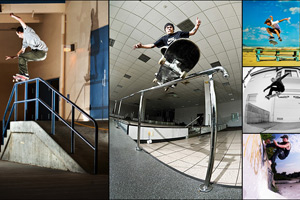 These are only a few of the ams that have been around for long enough to get the nod to turn pro this year. CW from L to R: Grant Taylor for AWS, Justin Brock for Real, Levi Brown for Element, Brandon Westgate for Zoo York and Ben Raybourn for 1031.

2009 brought a lot of new dilemmas to skateboarding. But, a lot of good came out of sticky situations. The word "recession" circled around and made pros re-analyize what it meant to be pro. People that hadn't been doing much suddenly appeared, proving why they were pro. Skaters showed up to contests in droves, eager to win. Companies found creative ways to push cool stuff, while holding the thinning industry together. But, most importantly, there was visual proof of a kind of transfer of power from this mythical skate axis we call California to smaller local scenes worldwide. Legends lived, companies cared more, Chris Cole annihilated, new pros arose, Flip dominated, everyone had a Deathwish, Leo Romero went in reverse, some contests got cushy, some got core, girls stepped up, skaters swapped, the world Tilted, we became radioSlaves and "Mindfield" blew minds. Take a look at a photo review of 2009 in
2009 in Review: A Gallery
. Enjoy.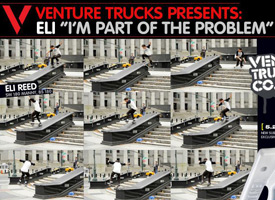 Eli Reed
admits he's part of the problem in his recent Venture ad and talks about his hometown,
Phelps'
trash-talking abilities, JR, PJ, NYC, McTwists, Boston legends, "Wicked" and other things. Have a
Venture read
(Reed?) from Zoo York's newest pro.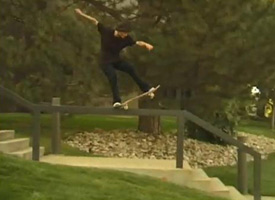 Jack Spanbauer powers a 5-0 through down through the kink and then gets chopped in half.

This is a review of Meta skateboard's newest Zombie movie-slash-skate video epic "
Turd Merchants of Death
," but before I start I want to make it clear: Local videos are a whole different bag of worms ("PJ Ladd's Wonderful Horrible Life" and a few others exempted). I know this, because while skateboarding on the large industrial scale likes to show only the best-est people in the most prettiest format at the greatest-est spots, local videos are a little more endemic—they might not suit all the criteria of your Internet skate nerd. Local videos are made for people in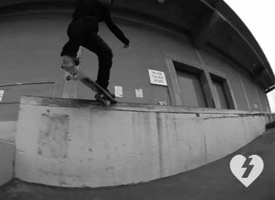 Pete Eldridge celebrates his B-day at a spot just outside his current home, Denver, CO.

Whether you're back at work and just waiting for the New Year to come, so you can enjoy another holiday, or you're just sitting around until school gets back in session, you'll need a little something to fill the rest of your break with. So, here you go...
Kincade
#31
explores Austin Stephens' lil' DIY skatepark. A Fourstar "
Few Hours in the Life
" of Brian Anderson has some smooth shredding from the Gentle Giant. The Etnies crew have some fun at Joe Red's local park
here
. Pete Eldridge has been
staying busy in Colorado
and gets a line on a spot I used to shred. Gotta love this guy. Happy birthday, Pete! Oh yeah and
Mike Mo
gets
Firsthand
-ed.