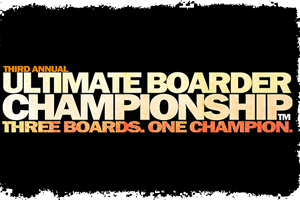 Ultimate Boarder
Chad Shelter took a repeat win at the 3rd Annual Ultimate Boarder event. The contest combines surfing, skateboarding and snowboarding and announced it's winners in Reno, Nevada this weekend. Surfer Mike Morrisey shares the win with Chad with an overall points tie. In the team competition, Team Hosoi takes home their second repeat win. Check out
http://www.ultimateboarder.com/
for more info.
On the same day that Rob Dydrek announced his new
Street League
venture that includes exclusive competition agreements with Paul Rodriguez, Chris Cole and Ryan Sheckler among others, Joe Maloof was in Flushing along with Geoff Rowley and
5boro's
Steve Rodriguez for the groundbreaking on the street course for the
Maloof Money Cup's
expansion into New York City.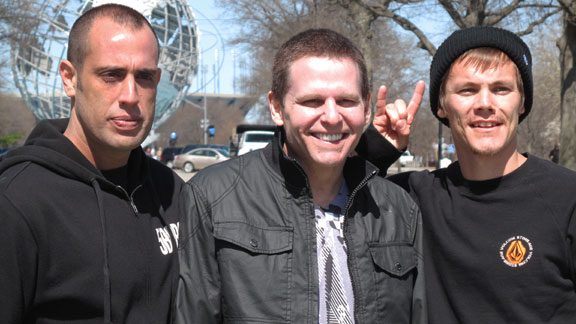 Adam SaloSteve Rodriguez, Joe Maloof and Geoff Rowley at the groundbreaking.
With the Maloof Money Cup NYC, The Maloof brothers will offer the same world-class contest they've brought to Costa Mesa, Calif. for the last two years, only this time they're leaving the skatepark for the skaters of New York City.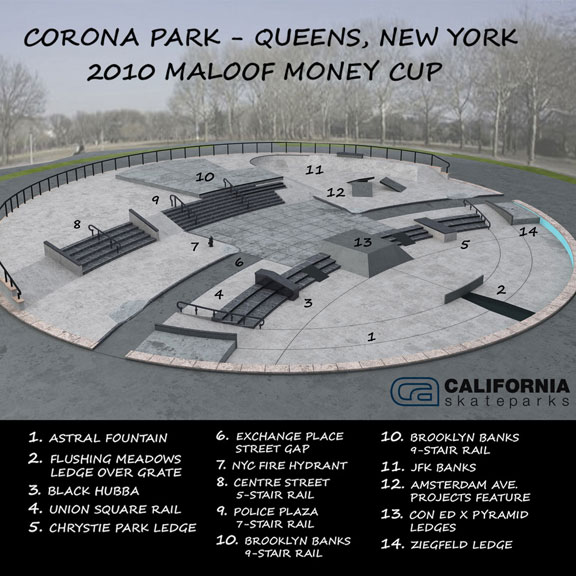 Courtesy of Maloof Money CupThe design has a ton of features inspired by skate spots in NYC.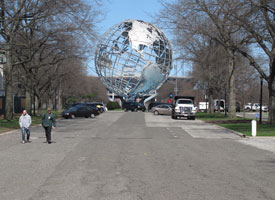 Adam SaloThis is how close the Maloof NYC site is to the original Flushing skate spot beneath the Unisphere.
At the groundbreaking I got a chance to speak with Maloof, Rowley and Rodriguez about their shared vision for a contest and park that can really benefit skaters in the region. The course is set to be built over the next six weeks by California Skateparks and should be ready for the contest's arrival on June 5th. Inspired by several of the iconic skate spots of New York's past and present, the course is being built a stone's throw from the Flushing Meadows Unisphere fountain, a well worn NYC street skating hot spot that is currently fenced off and due for re-outfitting. Since the Unisphere ledges will no longer be skateable, their likeness is being recreated as part of the design of the Maloof course even including a replica of the grate gap sessioned in its original form by New York greats including Gino Iannucci and Rodney Torres.
With Street League allowing its riders only two major contest appearances outside of their tour this year, it remains to be determined if we'll see Chris Cole or Paul Rodriguez in Flushing come June. But two things are certain: there will be a world class contest here in New York and there will be a world class park left to the skaters of NYC for years and years to come.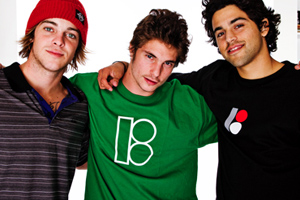 Plan BPudwill joins Plan B.
Plan B welcomes Torey Pudwill to the team. Look for Torey's debut Plan B Pro Models at a skate shop near you this April. Also, be sure to check out Torey's welcome clip now playing on B TV.
Skating pools goes back to the late 1960s. Since early skaters discovered they could emulate surfing turns on the transitioned walls of empty swimming pools, the ride has never stopped. Pools are where skaters discovered air time even before the ollie. Today replica pools and bowls in skateparks all over the world make the pool riding experience available to nearly everyone. Perfect as those prefab structures may be, nothing beats getting weird in a real backyard pool, not built with skateboarding in mind but perfect for it none the less.
(Photos: Ying, Jackson, McGuire, Smith, Mapstone, Zaslavzky)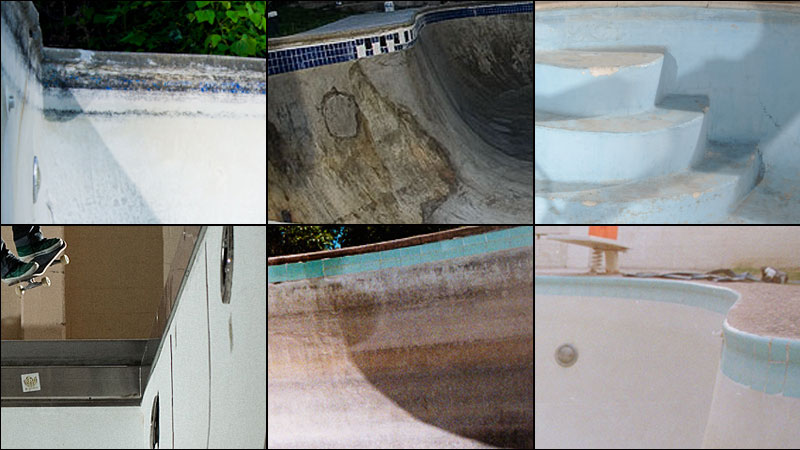 Nike 6.0 BMX Open, July 23-24 Chicago, Ill. at Museum Campus
Wendy's Invitational, Aug. 12-15 Portland, Ore. at Rose Quarter
Toyota Challenge, Sept. 16-19 Salt Lake City, Utah at Energy Solutions Arena
Dew Tour Championships, Oct. 14-17 Las Vegas, Nev. at Hard Rock Hotel & Casino
Burr Ridge, Ill. (March 15, 2010)
)-- The Dew Tour, the world's premier season-long action sports tour, today announced its complete schedule for the 2010 season. The 2010 circuit will return to Boston and Chicago for single-sport competitions and to Portland, Ore. and Salt Lake City for multi-sport events. Highlighting the 2010 schedule is the addition of new host city Las Vegas, where the final stop of the season -- the Dew Tour Championships -- will be held in conjunction with the year-end awards ceremony.
Bringing the Dew Tour to Las Vegas for the first time in the Tour's six-year history, the world-famous strip will serve as a backdrop for the Dew Tour Championships as well as the Dew Cup awards ceremony. After moving the event closer to what many consider the mecca of action sports -- Southern California -- the finale to the sixth season will be highlighted by fierce competition in addition to an elevated awards ceremony for the Dew Tour's year-end accolades.
"We are excited to host the first Dew Tour Championships in Las Vegas," said Pat Christenson, President of Las Vegas Events. "Las Vegas has a long and storied history of supporting high-profile, season-ending championships. This event will be our first foray into championship action sports and a great addition to our roster of Signature Events."
"I'm excited that the Dew Tour is going to be in Las Vegas this year. I love Vegas, so to be able to compete there seems almost surreal," said three-time Dew Cup champion, Ryan Sheckler. "The talent on the Dew Tour is going to be amazing this year, so I'm just looking forward to the season and the level of skateboarding that we'll bring to fans."
The full Dew Tour schedule also includes a skate-specific (park and vert) stop in Boston in June, followed by a BMX-specific (park, dirt and vert) event in Chicago. The five-stop tour will then continue on to Portland, Ore., Salt Lake City and Las Vegas, all featuring multi-sport events. Over the course of the Tour, athletes will compete to accumulate points based on their individual-event finishes, each vying for the most overall points and the title of Dew Cup champion.
"All five of our host cities for this upcoming year have shown tremendous support, and the addition of Las Vegas to the slate will make the final event of the year that much more dynamic and dramatic," said Chris Prybylo, Alli Vice President of Events and Dew Tour General Manager. "We look forward to what this season will bring and the climatic conclusion of the Dew Tour Championships in Vegas this October."