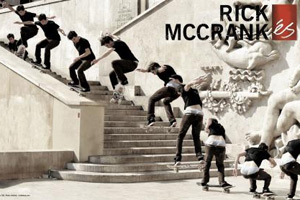 Courtesy of éS

An overview of Mr. McCrank's latest ad.

As a young kid, I'd always look at ads and wonder what my favorite pro skateboarders did that day. What lengths did they go to in order to get their trick? Did they slam a bunch? Where was the spot? If somewhere exotic, I wanted to know what it was like around those parts. Years later, éS's master of content, Mr. Brink, has taken that approach with
Rick McCrank's
latest ad. Read the interview
here
about frontside 50-50 backside 180ing out of massive ledges, McCrank's ankles, his propensity for Le Dome in France, naked statues and more about The Great éScape Tour. Bon appétit!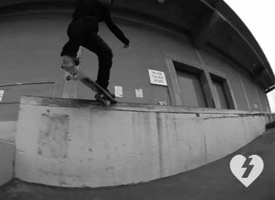 Pete Eldridge celebrates his B-day at a spot just outside his current home, Denver, CO.

Whether you're back at work and just waiting for the New Year to come, so you can enjoy another holiday, or you're just sitting around until school gets back in session, you'll need a little something to fill the rest of your break with. So, here you go...
Kincade
#31
explores Austin Stephens' lil' DIY skatepark. A Fourstar "
Few Hours in the Life
" of Brian Anderson has some smooth shredding from the Gentle Giant. The Etnies crew have some fun at Joe Red's local park
here
. Pete Eldridge has been
staying busy in Colorado
and gets a line on a spot I used to shred. Gotta love this guy. Happy birthday, Pete! Oh yeah and
Mike Mo
gets
Firsthand
-ed.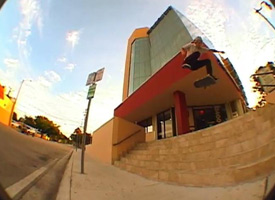 Courtesy of Stereo

Josiah Gatlyn brings the joy of Christmas for a little longer.

For those of you feeling the Christmas spirit wane, some still remains in this clip of young
Josiah Gatlyn shredding the streets of Miami
. I guess it could have been a litte more convincing with a beard and some snow...or a massive belly, but all those things probably make hardflipping much harder than it already is. Keep the spirit alive, at least 1:17 more.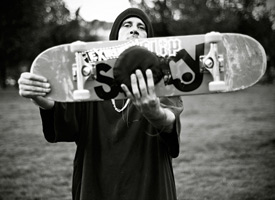 There's an overall feeling, looking back, that
Tom Penny
really hasn't done that much since the "
Etnies Hi-5
" era, but that would be really incorrect. Yes, he definitely went AWOL around 2001, so instead of a part in "Menikmati," he had a
hodgepodge of old clips
. So, in his absence from stupid amounts of year-round coverage in magazines and whatnot, there was a collective perception that he hasn't been doing anything. But, if you look at his parts in "
Sorry
, "
Really Sorry
or the most recent "Extremely Sorry," it's not like he hasn't been doing anything. Granted, it's not as impacting as, say, his mid-90s era 411 nuggets or Hi-5, but it's nothing to be scoffed at. For those of you who haven't seen what he put together for "Extremely Sorry," take a look at
his trailer
.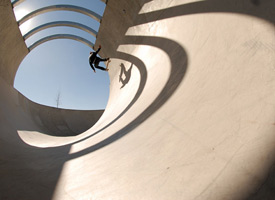 Michael Burnett

Rattray rolls in this AZ semi-fullpipe...and he reads.

As one of few professional skateboarders with a college degree,
John Rattray
tries his best to stay busy in all of his downtime. From a Scottish family that always kept themselves occupied with Aberdeen businesses, he's of the camp that "You can't just go and do nothing" with your life. Between all of the skateboarding, he's packed the holes with books, so we give you Rattray's Reading List as our newest Facetime. Watch the video of Rattray skating and giving his reading recommendations in
Facetime: John Rattray
.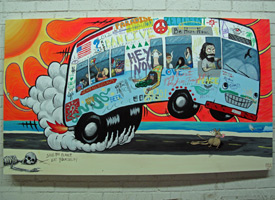 This painting, by an artist known by the name Crap, was clearly inspired by Insights bus trip "Repeat After Me: I Am Free."

Recently switching to Blackbox distribution and adding
Jamie Thomas
to it's line-up, it might be easy to forget that
Insight clothing
has had it's own thing going for quite some time. It's no secret that it's a really artsy clothing company. So, in light of recent news, an art show on their compounds is somewhat of a return to that central philosophy of creativity and self-expression. Two Saturdays ago, they held an art show with various artists—friends, established photographers and well-known painters—as a way to kind of reconnect, it seems. Have a look at the art and photos they featured in the show, which was at least partly inspired by their most recent video, "
Repeat After Me: I Am Free
."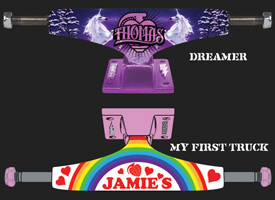 Two of the prototypes that will be made if the Chief loses in this game of trivia.

Thunder Trucks has posted up their two part trivia game, entitled "Stump the Chief," as a means to put
Jamie Thomas
on the spot and decide what will be his next truck design. As the Chief gets correct answers, he's able to rule out the silly truck designs. See which tricks are left on the drawing board and vote for which one you want made in a limited run of Thunder trucks. See the whole game
here
.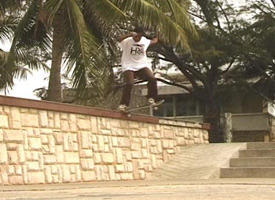 Switch crooksing his way in a new Habitat.

Habitat officially announced that their footwear rider,
Al Davis
, is now on the skate team's am squad. The announcement holds true to the roots of DNA (the umbrella company that makes and distributes Alien and Habitat), which originated in Ohio and continues to be one of the only renouned skate companies run out of the middle of the country. A Cincinnati/Kentucky native, Alex "Buttahs" Davis, had a big part in Anonymous Skateshop's "
Streets is Talkin
" and is welcomed to the Habitat squad with an entirely
new part
on their site. Good things to come from this guy.