Thursday, May 20, 2010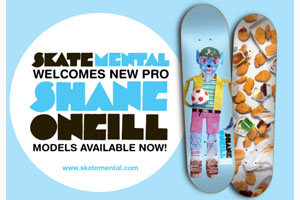 Skate Mental
The Aussie sensation Shane O'Neill has just turned pro for Brad Staba's Skate Mental. The digital download release of O'Neill's pro debut video part is available over at The Berrics and O'Neill joins the pro ranks with gusto setting things off with several never been done tricks and innovative tech combinations. We look forward to seeing much more from O'Neill in the years to come. Congratulations Shane! Your pro model is well deserved.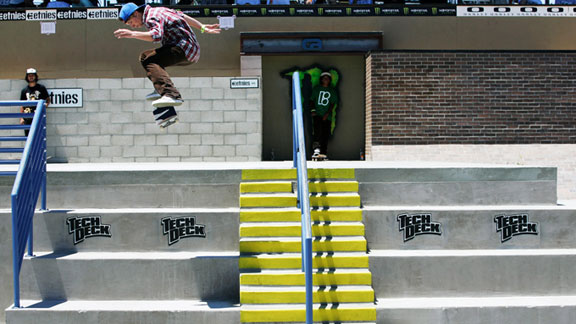 Maloof Money Cup NYC has announced their Maloof NYC riders list of the 48 pro skaters who will compete in the event for a shot at wining some of the $250,000 in prize money in Flushing Queens from June 5th-6th.
Roster
Pro
Adam Dyet
Alex Olsen
Anthony Van Engelen
Billy Marks
Brandon Biebel
Brandon Westgate
Brian Anderson
Brian Hansen
Bryan Herman
Chris Cole
Chris Haslam
Chris Pfanner
Corey Duffel
Darrell Stanton
David Gonzalez
David Gravette
Dennis Busenitz
Dustin Dollin
Emmanuel Guzman
Eric Koston
Geoff Rowley
Grant Taylor
Greg Lutzka
Jake Duncombe
Jamie Tancowny
Justin Brock
Keegan Sauder
Leo Romero
Lizard King
Luan Oliveira
Marc Johnson
Mark Appleyard
Mike Carroll
Mike Mo Capaldi
Nick Dompierre
Nyjah Huston
Omar Salazar
Paul Rodriguez
Pete Eldridge
Peter Ramondetta
Ryan Sheckler
Sean Malto
Stefan Janoski
Tommy Sandoval
Torey Pudwill
Zered Bassett
NY Wildcard Skaters
Danny Falla
Eli Reed
Am
Ben Hatchell
Clint Walker
Cody Davis
Colin Findlater
Collin Provost
Cory Kennedy
Curren Caples
Dan Plunkett
Dane Burman
David Loy
Davis Torgerson
Dustin Blauvelt
Evan Smith
Felipe Gustavo
Filipe Ortiz
Gilbert Crockett
Ishod Wair
Jack Olson
Jake Johnson
Jake Donnelly
James Hardy
Jeffrey Marshall
Jimmy Carlin
Kelly Hart
Kevin Romar
Kyle Walker
Louie Lopez
Luis Tolentino
Manny Santiago
Marius Syvanen
Mark Suciu
Nick Merlino
Nick Tucker
Ron Deily
Sascha Daley
Shawn Hale
Theotis Beasley
Timmy Knuth
Tom Asta
Tony Cervantes
Wes Kremer
Willy Akers
Singapore SKATE COMPETITION ( JUNE 2010).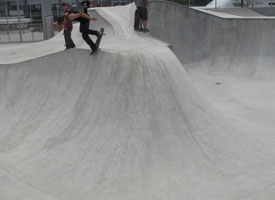 Ian nailed these noseblunts in the midst of solid flow lines.
Today New York City christened a brand new public skatepark in Manhattan right along the river on the west side of town. Designed and constructed by Californa Skateparks and Site Design Group, the new park is located on Pier 62 at the westernmost end of 22nd street in the Chelsea neighborhood. It's 15,000 square feet and is open 8am till dusk every day. It features an enclosed bowl that tops out in the deep end at 10 feet with pristine pool coping. The remainder of the park consists of a massive flow section and street elements circling the periphery. The whole park is oval in shape and blended into the landscape of the newly renovated pier area.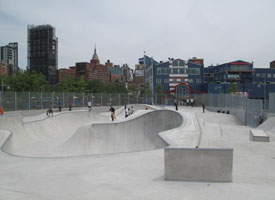 The view from the deck of the back bowl looking out on most of the flow course and the street-y section.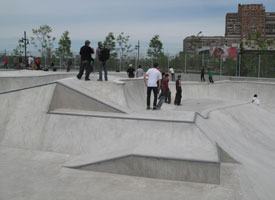 There are definitely some unique obstacles in the mix at this park.