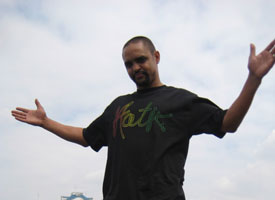 Cullen Poythress
This man is skateboarding royalty.
Jeron Wilson
is an OG:
Original Girl
rider. One of the more subtle guys on that stellar team, Wilson has held down a solid pro career for at least a
decade and a half
. While some other pros with that kind of longevity at times get accused of milking it, Jeron has gotten nothing but love. Why is that, you ask? Because the man has never fallen off.
He's consistently consistent with his tricks and his coverage. No, he's not a Daewon or a Chris Cole. He doesn't rack up multiple video parts in a year or put out 10 interviews all at once. But what Dubs does do is put out quality photo, footage and the like that keeps you wanting more. Top that off with a mellow personality, a humble approach to things, a solid stable of legit sponsors and you've got the ingredients to a solid career. Now Wilson can add Royal Trucks to that sponsor list. And, if his DVS team page is to be believed, today is his birthday as well. Happy Birthday Jeron Wilson. Keep doing your thing!
Courtesy of Royal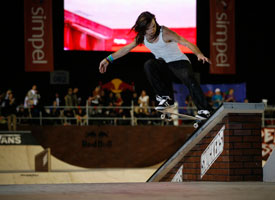 Courtesy of the Simpel Session
Adam Dyet takes a crooked grind up the hubba at the 2009 Simpel Session comp.
This coming weekend some of the best skaters in the world ate taking it to Tallinn, Estonia. Yeah, you read that right.
Ryan Sheckler
,
Tom Penny
,
Chris Pfanner
,
Danny Wainright
,
Kurtis Colamonico
,
Johnny Layton
and a whole grip of European rippers will be touching down north of Latvia and just south of Finland for one serious contest.
The 10th annual Simpel Session
comp is sure to be a doozy.
If the
course construction videos
are any indication, the Estonians spared no expense to design something original and top notch to skate. The whole comp will be
live webcast
so you can catch the action from around the globe. Should be a good one.
Courtesy of the Simpel Session
Courtesy of the Simpel Session

screengrab

Nyjah Houston nails a front blunt down Conan's sword during best trick at the Crossroads tradeshow.

We are skateboarders. We were born and bred in the parking lot. So it's only natural that we'd return. With our wounded industry under the steadfast wing of Jamie Thomas, we might have a fighting chance to get back inside. On our own terms. Jamie Thomas is an articulate man who makes no apologies about his decisions to team up with the tradeshow company that, in the past, he felt "never had our best interests at heart". Running one of the largest distributors of skate-goods as well as a tradeshow (Crossroads) had left his staff with a huge burden. That burden was addressed this year by letting ASR handle all the logistics, while Jamie fed the huddled masses with tents, ramps and Wahoo's fish taco's. I had to pay for parking and cops shut down the free tattoo booth for "health code issues," says Thomas. But overall, the vibe seemed to be the same as it was in previous years when Crossroads was held in the parking lot of Black Box distribution rather than the downtown parking lot of Petco Park. Vendors were talking numbers. Skaters were having a good time with free beverages, While kids tried to work up the courage to talk to their favorite pros. Oh yeah, that's what's rad about Crossroads as apposed to tradeshows in years past; they let any skateboarder in. To me that's really cool. As always the best trick contest was outlandish. An Excalibur-esque sword served as the rail obstacle. It hovered ominously over a landing pad that spelled out "There Will Be Blood," in the Zero font. This premonition proved true when an overzealous am sat on his own femur. Overall the sword-fight came down to Chris Cole and Nyjah Huston. I think they got some money. Good money. I got a sunburn and a car full of freeloaders begging for a ride back north.