Element's Chad Tim Tim talks skate career, injuries and family life.Tags: Actionsports, Skateboard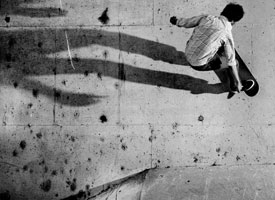 Brian Gaberman Courtesy of Element
Tim Tim boosts a wallride from the hip while his shadow tries to catch up.
Chad Tim Tim
is one of those pros roundly respected by his peers for being a genuine nice guy and flat out amazing on a skateboard. Apart from those accolades, he's somewhat elusive, though. Raising a family and living a humble life in Long Beach, Calif., Tim Tim doesn't seek out the spotlight; he usually let's his skating do the talking. But, with grips of footage logged and plenty more to come, we figured it the perfect moment for a Chad Tim Tim Face Time.
Feature »
Chad Tim Tim's knowledge and love for skating is deep.Through years on board of ups and downs with sponsors, injuries, video parts and more, Tim Tim has put in work. Now, with backing from Element, he's able to take care of his family doing exactly what he's supposed to be doing: skateboarding.
Once you've spent some time with the videos, check out some lists of Tim Tim's favorite things.
7 Earl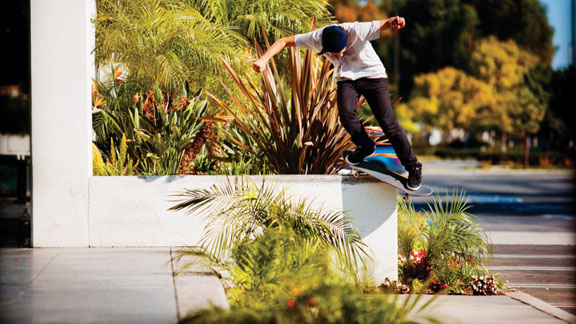 10 Favorite skate video parts
10. John Cardiel in "Sight Unseen"
9. Matt Reason's "411 Profile"
8. Dan Drehobl in "Free Your Mind"
7. Marc Johnson in "Modus Operandi"
6. Jason Dill in "Photosynthesis"
5. Kenny Anderson in "Hot Chocolate"
4. Danny Montoya and Rob G's old "411 Profiles"
3. Anthony Van Engelen in "Mind Field"
2. Mike Carroll in "Modus Operandi"
1. Guy Mariano in "Mouse"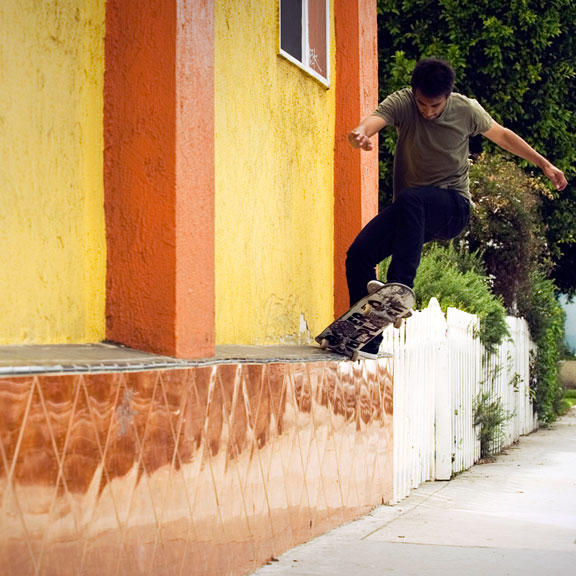 9 Tricks to try in SKATE
1. Frontside shove-it
2. Bigspin
3. 360 flip
4. Kickflip 5. Switch frontside shove-it
6. Nollie heelflip
7. Switch heelflip
8. Fakie 360 flip
9. Fakie bigspin
John BradfordThe man himself.
8 Best skaters from Long Beach, Calif.
1. Ron Chatman
2. Rich Colwell
3. Caesar Singh
4. Scott Kane
5. Darrell Stanton
6. Steffan Attardo
7. Justin Reynolds
8. Rob Gonzales and Danny Montoya
7 Bands/Musicians to get hyped
1. Hillsong United
2. Worship band at The Garden
3. Bob Dylan
4. Elliott Smith
5. Jeff Tweedy
6. Sea and Cake
7 Early to mid-'90s hip hop
Brian Gaberman Courtesy of ElementTim Tim dips a proper switch back Smith and takes it all the way to the parking lot.
6 Favorite places traveled
1. Australia: I love people there and the weather is nice!
2. Barcelona: Who doesn't like this place? Good food, people and skate spots.
3. New York: I love the feel of just walking around Manhattan. Lots of food too.
4. Hawaii: My family is from Kauai. I wish I could spend more time there.
5. Tokyo: The hustle and bustle there is fun. I could go in debt just buying Knick-knacks!
6. China: good people and the foods not bad!
5 Things to read
1. The Book of John from The Bible
2. Genesis from The Bible
3. Into Thin Air by John Krakauer
4. The Giver by Lois Lowry
5. The Jesus of Suburbia by Mike Erre
4 Skate essentials
1. Skateboard
2. Water
3. Food
4. Prayer
John BradfordChad locks in on a 180 nosegrind across a high Long Beach ledge.
3 Can't live withouts
1. Father, Son, and the Holy Spirit
2. My wife and daughter
3.. Family and friends
2 Other people with double last names
1. Other Tim Tims
2. You tell me! (Ed. Archbishop Desmond Tutu)
1 Funny thing heard or seen recently
1. My daughter is hilarious. Every day is a new adventure and every day she makes me laugh.
Brian Gaberman Courtesy of ElementTim Tim boosts a wallride from the hip while his shadow tries to catch up.
Thunder's got a new video and contest up today with Alex Perelson. First check out his new video Alex Knows Madonnas and then pick your favorite shot for a chance to win one of six sets of Thunder 149 lights.
th-perelsoncontest
Over at the Stick It Blog, our own Dave Chami got interviewed. Read some insightful words and peep some unseen gems from our master lensman.
Dane Burman, switch ollie.
No longer is the Palace Skateboards site just a backdrop of stars in the nights sky. They put up a short promo There Is Nothing Else with team, product and contact pages. The promo's a departure from the grime-laden videos of Palace's past, but filled with rad skating from Charlie Young, Olly Todd and Lucien Clarke. Click on the image below to see the newest kid on the English skate scene. Pretty trippy.
picture-4
The Deluxe crew took a day trip out to St. Helena, California to sesh its new park. Check Ishod Wair, Justin Brock, Peter Ramondetta, T-mo, Sean Gutierrez , Pat McClain and more in an extra long and very ripping edit.
picture-512