Don "The Nuge" Nguyen first turned heads being the first skater to ollie a 20-stair. Now he's turning heads again with tons of new tricks and a major sponsorship changes.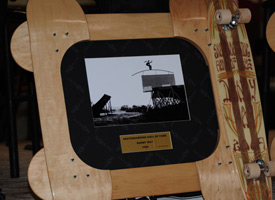 Courtesy of DC

Danny Way's Hall of Fame plaque

Danny Way
,
Tony Hawk
,
Tony Alva
and
Bruce Logan
were inducted in the International Association of Skateboard Companies' (IASC) first Skateboarding Hall of Fame ceremony. The four skateboarders are, were and will be influential on skateboarding's progression and, fittingly so, were the first to receive this great honor.
Courtesy of DC
Danny Way
invented the Mega Ramp and commenced destroying it in "The DC Video," released in 2003. He jumped the Great Wall of China. He has seven world records in the Guinness Book of World Records.
Tony Hawk
doesn't need much introduction. He has invented countless tricks, was the first to land the 900 and brought skateboarding to the mainstream, benefiting every pro skateboarder to follow him.
Tony Alva
was also influential in inventing tricks, pioneering riding pools and blazing a path in what professional skateboarding would be.
Bruce Logan
started skateboarding in the 50s and was one of the first pro skateboarders for Makaha Skateboards and later had his own company with his family.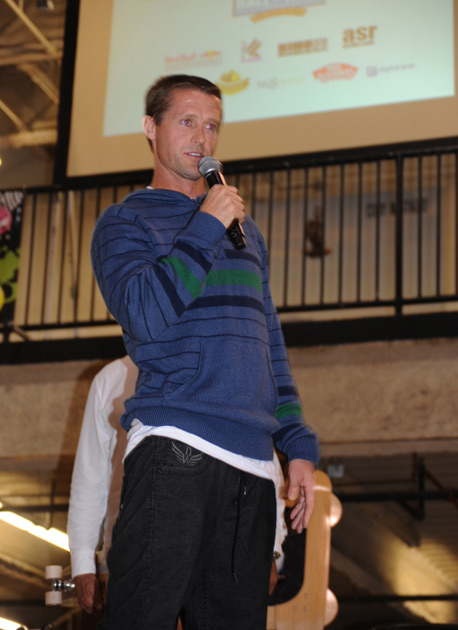 Courtesy of DC

Danny Way gives his acceptance speech.

The event is unprecedented for everyone involved and a great honor to some of skateboarding's greats. In the coming years, more influential skateboarders will be added to the list. Until then, take a look at the
Hall of Fame site
.