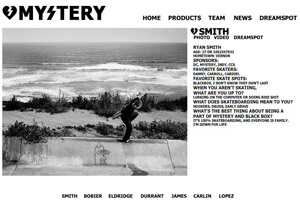 The current team line-up.

Mystery Skateboards has long been a team that you can always count on, and when I say that, I mean, you can always count on them being the same. But, some of the people we've come to expect to be at the heart of Blackbox's fresher team, have disappeared from the site.
Ryan Smith
,
Ryan Bobier
,
Pete Eldridge
,
Dennis Durrant
,
Windsor James
,
Jimmy Carlin
and
Adrian Lopez
remain on the squad, but the one-time-figurehead
Dan Murphy
, backside heelflipper
Lindsay Robertson
and
Everen Stallion
have
disappeared from the site
. No official announcements have been made, but rumor has it that there are some new moves to tighten up the team and bring on some new heavyhitters. Definitely stay tuned.