To almost nobody present's surprise, Torey Pudwill blew past all of his competition Saturday and qualified in first place just ahead of Luan Oliveira. Pudwill's first run was flawless and included tricks like a backside lipslide up and across the hubba ledge that everyone else was busy going down. The day seemed to belong to Pudwill even before he took his runs. Many of his new Plan B teammates including Colin Mckay, Ryan Sheckler and Pat Duffy sported T-shirts with a giant picture of Pudwill's face on them to informally announce his arrival onto the elite squad.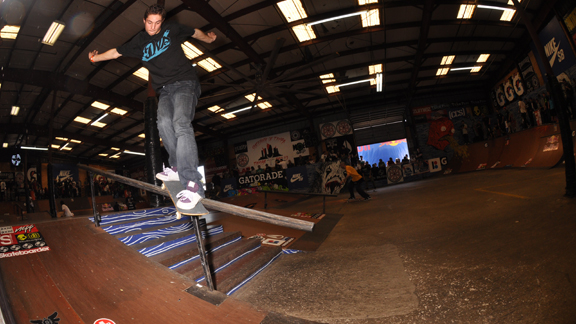 TadashiTorey Pudwill was by far one of the most fun people to watch all day. This Smith was part of a flawless run.
Although he qualified second, Oliveira had the crowd's rapt attention as well. Tampa being the first pro contest for the rookie, it sure didn't seem that way. Oliveira has nearly a home court advantage since he won Tampa am on the same course just a few months ago and won it the year before as well. Oliveira pulled some crowd pleaser tech moves including frontside 360 heelflips down the Tampa street course seven-stair. The top five were rounded out by Sierra Fellers, Paul Rodriguez and Nyjah Huston. Huston, the young dread newly at the helm of his own board company I&I, had a flawless run though perhaps not as technical as some of his peers who placed higher.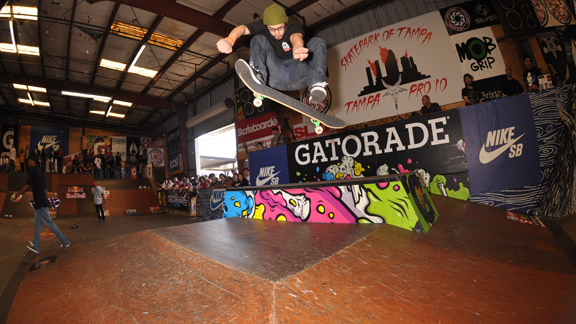 TadashiRookie pro Justin Brock tossed these steezed out 360 flips over the pyramid every try. And yes, this is a make.
Torey Pudwill and Luan both receive "Golden Ticket" buys straight into tomorrow's finals. Fellers, Rodriguez, Huston and Sauder will join the 25 other qualifying skaters in the semi-finals as well as previous Tampa Pro winners who get an automatic buy into the semi-finals [that list includes Gershon Mosley, Kyle Berard, Dennis Busenitz and Eric Koston]. Semi-finals begin Sunday at noon and with the amazing caliber of skating seen so far, things should get very interesting.
The skaters that qualified for the semi-finals are as follows:
1.
Torey Pudwill
2.
Luan Oliveira
3.
Sierra Fellers
4.
Paul Rodriguez
5.
Nyjah Huston
6.
Keegan Sauder
7.
John Rattray
8.
Chaz Ortiz
9.
Tyler Hendley
10.
Fabrizio Santos
11.
Peter Ramondetta
12.
Matt Miller
13.
Rodil Jr.
14.
Robert Lopez Mont
15.
Chad Bartie
16.
Ryan Sheckler
17.
Billy Rohan
18.
Andrew Pott
19.
Danny Fuenzalida
20.
Stefan Janoski
21.
Chad Fernadez
22.
Milton Martinez
23.
Anthony Shetler
24
. Shuriken Shannon
25.
Danny Cerezini
26.
Sammy Baptista
27.
Mike Peterson
28.
Chris Troy
29.
Neverton Casella
30.
Justin Brock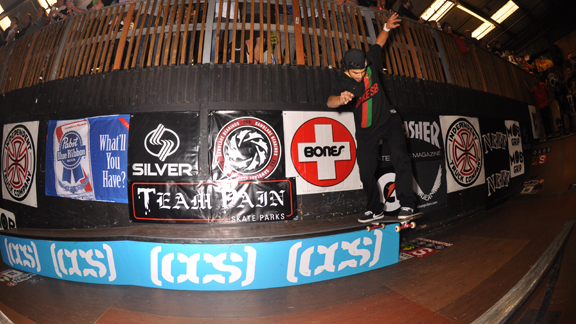 TadashiPaul Rodriguez pulled this switchstance backside tailslide in both of his nearly flawless runs.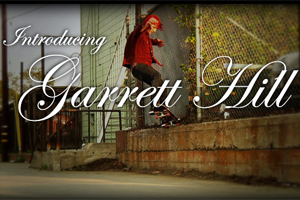 Fallen Welcome Garrett!
Garrett Hill officially joins Fallen footwear with this "welcome to the team" video:
http://blackboxdist.com/archives/video/index.php?id=186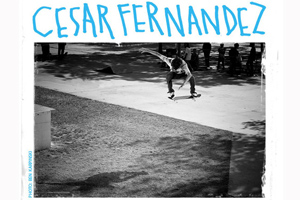 Roger SkateboardsFormer Stereo rider joins Roger.
Cesar Fernandez riding for Roger Skateboards. Former flow rider for Stereo, Fernandez joins Nate Broussard, Nate Lacoste and Brandon Ziskind on the Roger Team. Look for more fake ads for Roger and video of their riders comnig to an internet near you:
http://www.rogerskateboards.com/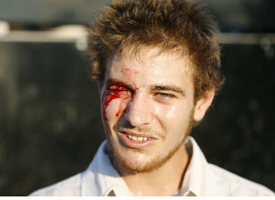 Don't worry, Mike Anderson's eye is healed now. He'll be able to watch himself in the 3-D video, "Krook3d" just fine.
Krooked skateboards, home of
Mark Gonzales
,
Dan Drehobl
,
Bobby Worrest
,
Mike Anderson
,
Brad Cromer
and
Luke Croker
has just released the first trailer for a new video they plan to put out this summer. Filming in Los Angeles, New York and San Francisco among other locations, "Krook3d" will be a 3-D video like the recent blockbuster, "Avatar" though on a much smaller scale (and without the aliens). If you have a pair of 3-D glasses or blue and red pieces of cellophane, you can watch the trailer
in 3-D here
. Even if you don't have 3-D glasses, the effect is obvious and the video should be something totally new for the skateboard film world.
New TF for both teams and PS Stix Plan B boards to come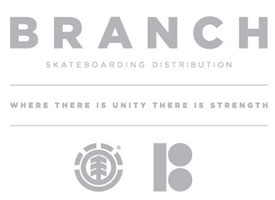 press release
Meet the new distribution home of both Element and Plan B: Branch distribution.
The big news dropped last week that
Element
and
Plan B
are teaming up to start
Branch Distribution
beneath the
Billabong
Group umbrella. Element has already been working with Billabong for some time and Plan B had been distributed by
Syndrome
(the distribution that also houses Silver trucks, FKD bearings and Phantom trucks). I got in touch with Plan B's Vice President,
Tom Jones
to talk about the new opportunities for their brand and what it may mean for both Plan B and Element in the future. From a new Training Facility for both teams to new wood for Plan B boards, everyone's got big plans.
How did the initial idea for Plan B and Element to team up come about?
Plan B, Element and The Billabong Group have a shared vision and mutual goals for the future.
Who reached out to whom?
Through long time industry relationships and common goals, connecting was a natural progression.
Will Plan B be severing ties with Syndrome Distribution completely?
Plan B (and Element) will be available exclusively through The Billabong Group's new Branch Skateboarding Distribution.
Will Plan B be using the same woodshops as Element moving forward?
We are very excited to say Paul Schmitt and the PS Stix Group will be developing and manufacturing Plan B Skateboards. The team and I are really looking forward to working with Paul's group, they have a progressive approach to manufacturing that is a perfect match for Plan B.
Are there any initial plans or talks for joint tours or anything like that now that the two brands will be operating out of the same building.
We have some initial plans to create a special Training Facility for both teams, beyond that the brands promotional and team efforts will remain independent from on another. But naturally, by being within the same group, we will always explore future opportunities together that may be mutually beneficial.
Are there plans for other brands to join the fold within Branch Distribution?
Plan B and Element are both interested in being a part of the skateboard community for a very long time. We are excited to have this opportunity to create a positive impact on the industry and explore new business opportunities.
Andrew Mapstone