The
Zumiez Couch Tour
made its second stop outside of Portland in Happy Valley, Oregon. The second stop brought another epic demo courtesy of the
Zero
team with Jamie Thomas on the mic letting the crowd call out tricks for the skaters. Another
Best Foot Forward
contest also went down with Steven Farmer taking first and winning a free ticket to the finals in Minneapolis.
Best Foot Forward Results:
1. Steven Farmer
2. Robby Repp
3. Trevor Ward
Tags:
Ben Hatchell
,
Chris Cole
,
couch tour
,
elissa steamer
,
Garrett Hill
,
Jamie Thomas
,
Keegan Suader
,
Portland
,
tommy sandoval
,
Tony Cervantes
,
zero
,
zumiez
,
zumiez couch tour 2010
The
Zumiez Couch Tour
has officially begun with Jamie Thomas, Chris Cole, Billy Marks, Tommy Sandoval, Slash, Garrett Hill, Dane Burman, James Hardy, and Tom Asta from
Fallen
handling the first stop. The
Zumiez Best Foot Forward Am Contest Series
also is underway with five stop down and with each first place winning am getting flown in to the final stop on the Couch Tour for Best Foot Forward finals. Check the video from the BFF Seattle finals and the demo with Fallen destroying this year's new course.
Best Foot Forward Results:
1. Michael Patterson
2. Jake Wood
3. Chris Jimenez
Don't forget to download the
free Zumiez Couch Tour iPhone app
and watch each stop live from your phone.
Filmed & edited by Chris Thiessen
Tags:
best foot forward
,
Billy Marks
,
Chris Cole
,
Dane Burman
,
Fallen
,
Garrett Hill
,
James Hardy
,
Jamie Thomas
,
seattle
,
slash
,
Tom Asta
,
tommy sandoval
,
zumiez couch tour
,
zumiez couch tour 2010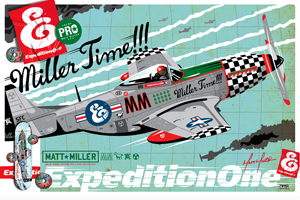 Expedition's Matt Miller will have a long overdue pro model in shops today.After video parts in "Few and Far Between," TransWorld's "And Now," Zoo York's "State of Mind" and the recent web exclusive DC am video, "Skateboarding is Forever," Matt Miller's debut pro model is one of the most deserved in recent skate history. Check out our interview with Miller
here
.
Emerica's Wild In the Streets event will bring various members of the Emerica team to four celebrations sessions in four different cities on June 21st, Go Skateboarding Day. The cities are London, Madrid, Tampa and Montreal. Check it out at:
http://emericaskate.com/news/2010/05/24/wild-in-the-streets-2010-locations-announced-2/
(Burr Ridge, Ill.) -- Competitions at Rye Airfield in Rye, N.H. and Skater's Edge in Taunton, Mass. produced three skaters and a BMX finalist from the first weekend of the Gatorade Free Flow Tour. Rye Airfield winners Josh Lane (BMX park), Zac Rose (skate vert), and Giorgio Villone (skate park), as well as Skater's Edge winner Mat Militano (skate park) have all advanced to the Gatorade Free Flow Tour Finals taking place September 16-19.
Seventeen-year-old Lane of Portsmouth, N.H. earned the BMX park victory at Rye Airfield, taking his amplitude and style across the entire park. He impressed the crowd and judges when he launched from the jump landing to a superman, whipping the big box -- backwards -- during the final jam session. Matt Ray was second with Brett Silva finishing in third place.
"This contest was amazing," Lane said. "I'm gonna train non-stop so I can win the finals."
In the skate vert contest, 14-year-old Rose used an almost-flawless run that included alley-oops, two McTwists and some hot coping action to claim the victory.
"I've been driving two hours every night to come to Rye to prepare for this event," said Rose of Raymond, ME. "I'm really psyched for the finals in Salt Lake!"
In the skate park competition, Villone of West Islip, N.Y. topped the jaw-dropping skate contest with a loaded run that included a full cab flip up the euro, switch 180 smith the down rail and a feeble the down rail.
"I'm so happy I won, I wasn't expecting to at all," said 20-year-old Villone. "Finals are going to be so sick, last year the course was awesome!"
Villone was a skate park finalist in the 2009 Gatorade Free Flow Tour, earning a wildcard entry with his video submission.
"As always, the Gatorade Free Flow Tour killed it with killer prizes, the best trophies ever, and a nail biting competition that went down to the wire," said Rye Airfield manager Beau Lambert. "We're so psyched to be a part of it for our fifth time. See ya at the finals in SLC."
On Sunday, Militano won the skate park competition at Skater's Edge Skatepark in Taunton, Mass.
Seventeen-year-old Militano of Douglasville, Pa. earned the victory after executing a big heel flip and switch big spin during the final jam session. Mikey Leven of Philadelphia, Pa. was second and Kevin Liedtke, also from Douglasville, Pa., finished in third place.
"The contest was so fun, now I need to sleep!" Militano said. "Yesterday and today killed me, but I'm so psyched for the finals."
With the win, Militano, Lane, Rose and Villone all earn an automatic bid into the Gatorade Free Flow Tour Finals that will take place at the Dew Tour's Toyota Challenge, September 16-19, 2010 in Salt Lake City, Utah at EnergySolutions Arena.
Results
BMX Park
1. Josh Lane, Portsmouth, N.H.
2. Matt Ray, Woburn, Mass.
3. Brett Silva, Sandwich, Mass.
4. Seth Beaton, Templeton, Mass.
5. Dave Cjaza, Manchester, N.H.
Skate Vert
1. Zac Rose, Raymond, Maine.
2. Mitchie Brusco, Kirkland, Wash.
3. Max Jenson, Rye, N.H.
Skate Park
1. Giorgio Villone, West Islip, N.Y.
2. John Osbourne, Medina, N.Y.
3. Mat Militano, Amity, Pa.
4. Connor Ose, Williston, Vt.
5. Brandon Strosser, Lancaster, Pa.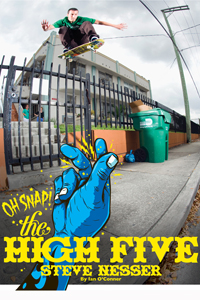 In a surprising move, former Birdhouse skateboards pro Steve Nesser has left the fold to ride for the distinctly smaller core brand The High Five operated by longtime friend Todd Bratrud.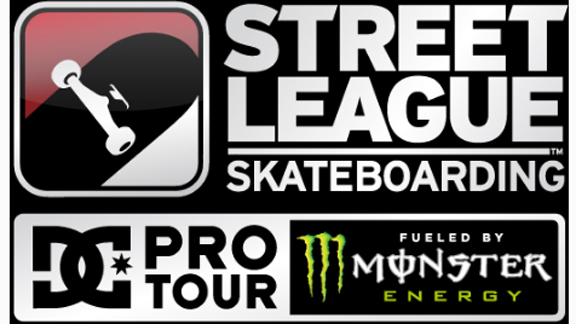 Rob Dyrdek's Street League announced DC and Monster as presenting sponsors. In addition, The Berrics will be the official online video destination and The Skateboard Mag is the official magazine partner for the series. Click through for the full press release.
Street League Skateboarding" announced today that DC and Monster Energy will present the highly anticipated 2010 series. The DC Pro Tour fueled by Monster Energy is a prestigious, invite-only three-event series featuring 24 of the best skateboarders in the world. Founded by twenty-year professional skateboarder and entrepreneur, Rob Dyrdek, Street League" is truly the future of competitive street skateboarding.
"This series is a reflection of our on-going commitment to street skateboarding, which has always been the cornerstone of our brand," says Anton Nistl, President, DC Americas. "DC is excited to help produce what we expect to be some of the best competitive street skateboarding ever."
"Monster's commitment to Street League" represents our continued support for both Rob and street skateboarding," adds Mark Hall, Monster Energy President. "We are eager to see the world's best compete in a series that translates the excitement and drama of street skateboarding into a live spectator experience."
"I am very honored to have my two closest sponsors, DC and Monster participate in the launch of Street League"," says Rob Dyrdek. "DC and Monster have always supported my vision for street skateboarding, from building skate plazas throughout the world to now creating the first-ever professional skateboarding league. Their support is a testament to their belief in the need to create a professional street skateboarding series that skate fans across the world embrace."
Street League" is also proud to announce TheBerrics.com, the most visited skateboarding site in the world, as Street League"'s official online video destination. The Skateboard Mag" has been designated the official magazine partner for the series.
Street League Skateboarding" features the exclusive participation of twenty-four of the best street skateboarders in the world. To assist their transition into the league, each pro has been given the option to compete in two non-sanctioned wildcard events until the end of 2010. Beginning in 2011, the pros will compete exclusively in the Street League" series and other Street League" sanctioned events worldwide. Using real time scoring and an exciting proprietary competition format, Street League" will tell a compelling story about each skateboarder's performance and will have fans on the edge of their seats from the first trick to the very last. The inaugural year of Street League" features a 3-stop arena tour beginning at Jobing.com Arena in Glendale, Arizona on August 28th, Citizens Business Bank Arena in Ontario, California on September 11th, and the final stop in Las Vegas at the Thomas & Mack Center on September 25th. The skaters will be competing at each event for a total purse of $1.2 million.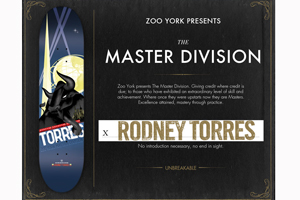 NYC Original and the true King of Queens, Rodney Torres has been welcomed into the Zoo York family as part of the Masters Division which includes other legends: Donny Barley and Kevin Taylor. Yeah Rodney! Get em!
www.zooyork.com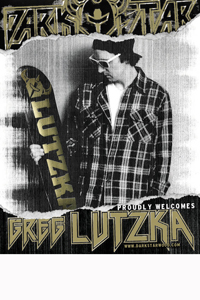 After hanging in board sponsor limbo for nearly five months after his departure from Almost skateboards, Greg Lutzka has found a new home with Darkstar. Interestingly, Lutzka, the three-time Tampa Pro winner and X Games Mexico gold medalist, came full circle when he landed on Darkstar; both Darkstar and Almost are a part of Dwindle Distribution. Lutzka joins Ryan Decenzo, Paul Machnau, Pierre Luc-Gagnon, Adam Dyet and founder Chet Thomas on the team.