Paul Rodriguez Signature Collection Fall 09 Skate Pack
Introducing the Fall 09 Skate Pack, the newest addition to the Paul Rodriguez Signature Collection, designed and constructed with the essentials in mind. The Skate Pack helps you take what you need where you need it by merging skateboard-specific design with the best in notebook protection and functional storage.
Constructed of durable, weather resistant nylon, the Skate Pack features a padded back panel and shoulder straps with breathable mesh and integrated airflow channels for ergonomic support and comfort. The exterior skateboard attachment allows for easy deck-loading, with Velcro straps and compression bumpers to secure your skateboard.
On the inside, the Skate Pack is lined in a custom screen-printed allover P-Rod multi-dot design and includes a reinforced notebook compartment and an extensive array of pockets allow for maximum organization.
And we can't forget the collection's namesake in all this. Paul has been busy this summer traveling, competing and winning.
Incase had the chance to document Paul on the road, traveling to the Boston stop of the Dew Tour. Check out the video to get an inside look at a day in the life of P-Rod.

Skateboarding legend Tony Hawk's first iPhone app --
Trick Tips
-- reached No. 1 in the sports apps category last week. Hawk is a marketing genius in interacting with his fans as he has reached 2 million followers on Twitter. "It's an instant, unfiltered way to connect to fans," he said. The $0.99 Trick Tips include text, video and photos of Hawk giving step-by-step instruction for 50 of the top skateboarding tricks from basic to advance. So Page 2 chased him down to talk about his new venture.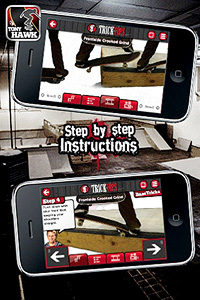 1.
Tony, you've always been cutting edge. How did this come about?
"I've been wanting to do an iPhone app for the last couple years, but didn't want to do something quick and easy. I have had success in skating instructional videos in the past, and I knew it could translate well to the iPhone platform. We updated every trick and shot everything in HD in order to use frame grabs. If you don't have an iPhone, an iPod Touch works, too. Or you can watch our previous Trick Tips videos at
shredordie.com
. We're working on getting the app on other smart phones."
2.
You made skateboarding popular, but you didn't stop there. What else are you working on?
"Raising my first girl [Kadence Clover Hawk, who is 18 months old], a sequel to [video game] Tony Hawk: Ride, and supporting public skateparks in low-income areas through my foundation."
3.
Tell us some of your favorite tricks and maybe some of your favorite ramps in the United States.
"My favorite moves are 540s [any spin/grab], backside ollies, 360 flips and alley-oop lip tricks. The best ramp in the U.S. is the one we use for my
Boom Boom Huckjam Tour
. I skate it almost every day, and I am completely spoiled by it. Other than that, Woodward Skate Camp in Pennsylvania has a bit of everything. There are many amazing skateparks across the country, but I hope to provide more to needy youth."
4.
Do you consider skateboarding still a youth sport or has it gone totally mainstream?
"It is a sport, an art-form, a hobby or a lifestyle depending on your approach. Many adults [who skated in their youth] have a renewed interest because their kids are into it, and it is more accessible than ever."
5.
What makes you happy?
"My family … and landing new tricks."
A couple of cool events are going down in the greater NYC area this week that you won't want to miss if you live in the tri-state area. First, the good folks from
KCDC skateshop
are hosting a benefit for the people of Haiti on Thursday night. If you're in Brooklyn and you're over 21, come by the shop between 9-12. Bring some canned goods, clothing or cold hard cash to get in the door. Once you're in, there's a ramp to session, OG Rookie rider
Sean Kelling
killing it on the ones and twos, free beverages provided by Brooklyn Brewery and a performance by Natur.
This Saturday, January 23rd, just outside Manhattan in New York's sixth borough, New Jersey,
Zoo York's
own
Zered Bassett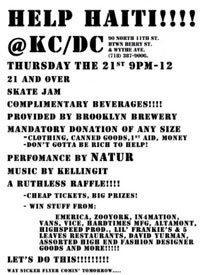 Courtesy of KCDC

Come party for a good cause!

will be hosting a shindig of his own exhibiting photos from his trip to Cuba last year. You can read more about that trip
here
. If you want to come to the event, it's being held at Mountain Creek 200 Rte. 94, Vernon, New Jersey from 7-10 pm. Our guy,
Chris Nieratko
will also be screening video he shot from that same Cuba trip.