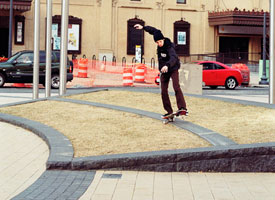 Phil Jackson
Zach Lyons has seen the skate industry take such a big hit, he has to ride grass instead of pavement. Backside 5-0 from end to end.
Last night, President Obama delivered his first State of the Union and spent a good deal of speech addressing the concerns of his fellow Americans in the wake of one of the worst economic crisis in our lifetime. The recession has touched virtually every part of our lives, even skateboarding. With 10% unemployment across the board and a long, slow road to recovery ahead, the skate industry (the pros, bros, skate shops and company owners) is battening the hatches. We talked with
Chris Cole
,
Tony Hawk
,
Greg Lutzka
,
Dan Murphy
and more to see how skateboarding is being effected and how we'll weather the storm.
Full Feature »
I, for one, am glad to say goodbye to 2009 and pray 2010 is a better year for the skateboard industry. Like most every facet of our nation's economy, skateboarding took a big hit in 2009. It may not appear that way from the outside, what with the biggest contest purses in history and big budget
Nike commercials
on television featuring
Paul Rodriguez
and
Ice Cube
, but trust me, things ain't pretty in Skateville.
Jamie Thomas
, pro skater as well as the owner of
Fallen shoes, Zero, Slave & Mystery
skateboards, bluntly puts it best when he says, "Skateboard sales have been sucking this year." That's an understatement. I own three
NJ Skateshop
stores in New Jersey and this past Holiday season was our worst in seven years. I have friends that have owned skate shops three times as long and they're saying the same thing, across the country.
Barak Wiser
, who is the head buyer and operations manager for the
Skatepark of Tampa
, sadly admits, "I know there are a lot of shops that closed up in Florida."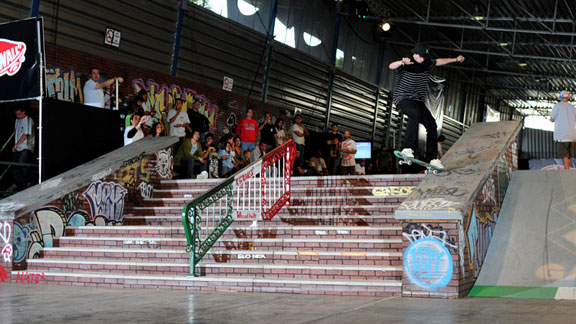 Renol/Shazamm/ESPNGreg Lutzka pads his paycheck with contest winnings galore earned with casually massive mid-run 5-0s like this one.
It's not just the little mom and pop retailers that are getting beat up either; it goes from top to bottom, from the highest earning pros to heads of companies. Skate apparel manufacturer,
Volcom's
third quarter stock was down 18%.
Quiksilver
, owner of
DC Shoes
, net revenues were down 13%, $538.7 million compared to $606.9 million in the fourth quarter of fiscal 2008.
Pro skater,
Greg Lutzka
, explains, "The economy is definitely hurting our industry because people aren't buying as many boards and aren't spending as much money. It's hurting our board sales because, as a pro, our boards sell for $60 when a kid can go buy a local shop deck for $35."
Even shops owned by pro skaters are selling more shop decks than the pro decks.
Mark Brandstetter
of
Nocturnal
skate shop in Philadelphia, said he sells two to three of his cheaper priced, Nocturnal shop decks to every one pro model deck. That includes his partner,
Kerry Getz's
pro model!
The economy is hitting other parts of the industry as well.
Tony Hawk
says his low-priced footwear brand is on the rise. "Tony Hawk shoe sales at Kohl's are way up. Affordable skate shoes are a big hit, apparently," Hawk admits.
Skate company heads and skater's skaters, are having to make the tough call. Jamie Thomas explains, "We've cut back in every area of the company." One of those cuts was to pro skateboarder
Dan Murphy
who was let go by his sponsor Mystery skateboards, after receiving a pay cut just weeks earlier.
"I don't think it's just skateboarding," Murphy says, "The economy in general isn't on top right now.
Obama
needs to live up to his "Change" speech and start changing things to help the economy. Until the economy does better, skateboarding won't improve. I received a pay cut and I understood because sales are down in general. Without sales people's salaries have to be cut," Murphy adds.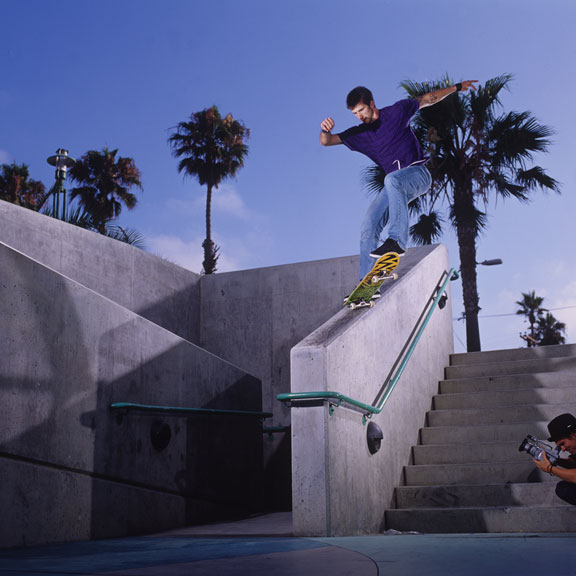 Joey ShigeoChris Cole stands tall on a switch 180 5-0. In tough economic times, he's willing to put in work.
Even Tony Hawk, is feeling the shift, "My Jeep contract got dropped at the end of 2008. But it wouldn't feel right accepting Detroit 'bailout' money, anyway."
Jim Thiebaud
, owner of
Deluxe
distribution gets bummed when he says, "We did three rounds of internal layoffs last year. Each one was incredibly tough. Deluxe is really tight and anytime we have to make those kinds of decisions they're lasting ones that remain. People who work at Deluxe do so because they believe in what they're doing and back the gig. Letting someone like that go sucks."
"I've had a few of my companies give me pay cuts." Lutzka admits, "I always try to keep a positive attitude whether I'm making no money, or I'm making money skateboarding. I'm still gonna do it because that's what I love to do."
The economy's fluctuation may be a little easier to handle for a guy like Lutzka, a high profile skater who earns top dollar on the contest circuit, but for a more low-key pro like Murphy, tougher decisions need to be made. "I need to pay a mortgage so all I can do is rip," Murphy says. "I have to skate my a** off and hope that I can make enough money to pay my mortgage or I'm going to get foreclosed on like millions of others in America."
Thrasher's
2009 Skater of The Year, pro skater and
Reign
skate shop owner,
Chris Cole
says, "A couple of people close to me have been laid off. It sucks! I've been trying to save my money and whatever extra I have, I want to invest in stuff like Reign. I try to make sure I am not buying something just to buy it."
So how will the skate industry make it through these tough times? Wiser isn't overly hopeful, "I think we're seeing a lot of bigger brands that were bought up by the surf companies downsizing and firing people off left and right out there" he says. "The shrinking part is about over. A lot of money was thrown away by the big guys in so many ways that I think they'll regroup and focus on more grass roots approaches to promoting their' brands instead of trying to be in Foot Lockers and every other big box store. Once they move on, it'll make room for the smaller brands to be smart and lay bigger footprints in the skate market. I
do
envision less brands making it. There are too many core shops closing up. It just depends if Zappos, Zumiez, Journey's and CCS will keep [the brands] going long enough to weather the storm; that's where most brands survive these days. I think skate shops are more at risk than the brands."
Jim Thiebaud echos Wiser's sentiments. "Unfortunately it will cause some companies to go under. Some see this as a good thing. I'm not on that side. I love the eclectic landscape of skateboard brands and riders; it's awesome to be a part of. But let's be honest, the true die-hards are going to find a way to keep their s**t going. One way or the other, skaters will make it happen."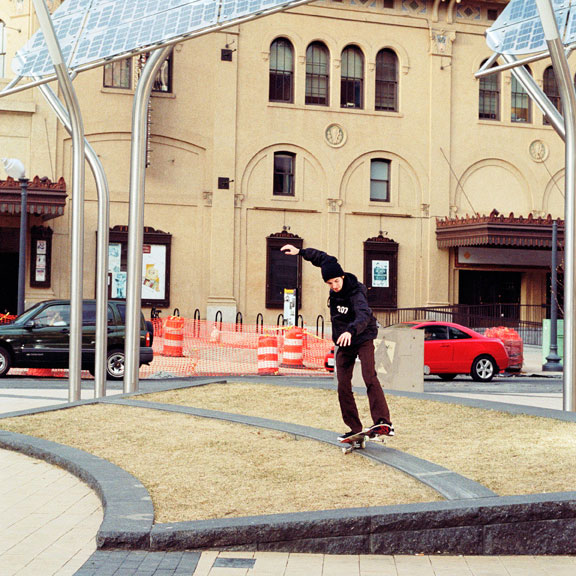 Phil JacksonZach Lyons has seen the skate industry take such a big hit, he has to ride grass instead of pavement. Backside 5-0 from end to end.
Tony Hawk has seen every generation of success and failure the skateboard industry has ever faced, including the awfully lean years of the early '90s. He's certain, "there's not a chance of it ever getting that bad again. Skating's foundation is much stronger now. And there are
way
more participants. I think the brands that promised their riders huge salaries are probably having the toughest time staying afloat. It made pro skaters realize that the "gravy days" of skating are short-lived and you can't just cruise on your previous reputation to make it. I believe that we'll once again only have a handful of recognizable brands in the skate industry once this 'recession' passes."
Thiebaud plans for the Deluxe brands to still be standing. He poetically puts his industry peers on blast. "If the rest of the dorks are smart, they will pour their energy into cool events, videos, tours, etc. and you are going to see some great, exciting skating," Thiebaud says.
Jamie Thomas agrees, "Quite simply, we're working harder to keep kids psyched on skateboarding."
For the skaters out there? What's the answer to our economic woes? Chris Cole suggests reeling it in. "Live like you have a
1994
skater's salary," Cole says. "Skaters that just chill and don't skate much will see the door. Lots of new companies will start because of this and because if you start at the bottom then you have a good chance of going up."
On Saturday January 23rd, 2010 full time professional
Zoo York
skateboarder and part time photographer,
Zered Bassett
turned the art world on its ear by rejecting numerous offers to show in any Manhattan gallery and opting instead to show his collection from his trip to Cuba in the sleepy mountain town of Mt. Vernon, New Jersey at >Mountain Creek's South Lodge.
Back in 2009 Zered and a bunch of skaters
snuck into Cuba
with a few hundred skateboards to give to the local skaters in Havana who are unable to get product due to the U.S. embargo. Throughout his stay on the island, Zered documented every moment of the mission with his camera. Those photos were on display Saturday.
As much as the night was about Zered's photos it was also about skating Red Bull's version of the MegaRamp that is permanently housed at Mountain Creek for anyone to use, free of charge, whenever they want.
Joey Pepper
,
Eli Reed
,
Ron Deily
and Zered were all showing the local kids how the ramp worked.
Courtesy of Red Bull
Courtesy of Red Bull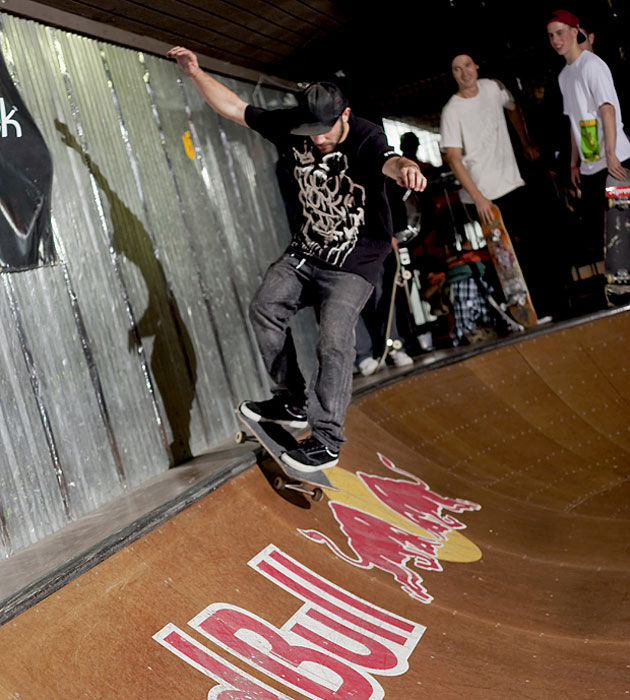 Courtesy of Red Bull
The man of the hour on his way back into the transition from a Smith grind that was properly decked.
Chris Nieratko
Courtesy of Red Bull

Guru Khalsa is many things all at once. He's Texas and he's India. He's humble but he certainly stands out. His skating is technical and gnarly all at once. Riding for Habitat skateboards for over 5 years, Khalsa has just made the leap into their pro ranks. He'll have a full part in their new video due out this coming summer and, if it's anything like his part in "Inhabitants," it will be well worth the wait. With his pro model hitting shops any day now, Khalsa is now also the first Habitat pro to rep their newly launched shoe division. We caught up with him to talk about his new pro status, his new kicks and the state of skate in Texas.

Travis HowellGuru finds a perfect balance on this switch lipslide and holds on for the long haul.

What's your full name? Guru-shabd Singh Khalsa What are some good nicknames you've gotten through the years? Well all my friends that I grew up with still call me "Chubby" because I was a chubby little kid. Other than that I'vve heard "Gooey," but I can't respond to that because I had a friend growing up and his nickname was gooey. There's also been "Ru," "Gu," "Shub Shub," and "Rubaker," to name a few. Congrats on turning pro! Thank you sir! Just to give them a shout, who all do you ride for? I ride for Habitat skateboards, Elwood clothing, Satori wheels, Habitat footwear, Venture trucks and Artist Front skateshop. Where did you grow up skating? I grew up skating mainly at my boarding school in Punjab, India. Then, in the summer, I would live in skate Houston, Texas and I'd skate there, often times at Southside Skatepark. Where do you live now? Currently, I'm living in Houston. How's living with your Team Manager (Habitat TM, Brennan Conroy)? I'm not living with him anymore, but when we were living together it was mellow. Any advantages or disadvantages to that situation? Well, the main advantage was that Brennan is always down to skate, so long as he's done his yoga and practiced his piano. The disadvantage was he was always on his phone first thing in the morning and he's one of those guys who talks extra loud on it. But that wasn't really a big deal. Brennan's mellow overall and has helped me out a lot. Is there a new video dropping for Habitat anytime soon? Yeah. It's gonna be Habitat's 10 year anniversary video and will be out in 2010 for sure. I think its supposed to come out in the summer though.

Travis HowellThe Texas version of a rollercoaster, this tall and long 50-50 is no joke.

What's the best place you've traveled so far? I would have to say the trip I took to Thailand, Cambodia, and Vietnam. Going to India is always an amazing experience as well. I'd have to say those places so far. Any places you are specifically trying to go soon? Well, Jonathan Mehring is trying to get a trip going to Brazil where we take a boat ride up the Amazon river. But right now he's still trying to get the funding, I believe. I want to be a part of that if it happens. Who would win in a longer hair contest: you or Nick Dompierre? I haven't really seen Nick's hair completely out and brushed. When mine is all the way out, it's pretty long, but Nick's is probably longer. Are you a practicing Sikh or is it just your parents who are Sikhs? I'm not a practicing Sikh but I think it's a good religion and has a lot of positive morals. My parents are practicing Sikhs. Habitat shoes are looking really good. With your spot on the team, do you have any input on the design side of things? Well, I give a little input here and there. If I feel something is wrong with any of the samples then I let the designers know. Or, if a certain part of the shoe doesn't last long enough then I tell them and they work to fix it. I haven't really helped out with the design side of things; that's mainly Aaron Hoover and Joe Castrucci. They know what they're doing so I just leave it at that. Austyn Gillete has been helping out with the design stuff a lot as well. Are your, or any of the dudes at Habitat, nervous about launching a footwear division since Element just shut theirs down? Well, probably a little bit. Starting a footwear company in a recession is sort of bold, especially with all the other shoe companies, cut backs and stuff. But it's something they felt they wanted to do now or never. As far as Element's shoe thing shutting down that's' unfortunate for people's jobs and stuff. All I can say is Habitat is not Element.

Travis HowellGuru locks in on the landing of this double set backside flip seen through a chain-link fence.

You seem to skate in Austin, Texas a lot. What are your favorite skate spots in Austin? Ha ha! Well, this is sad but, probably the No Comply Skateshop slab or the slab spot over off 290 West. Of the new guys on the team (Al Davis, Marius Syvanen, Daryl Angel), who are you the most stoked on? Who do you get along with the best? That's a tough question. They are all cool in their own ways. They all are amazingly talented skateboarders. I really enjoy watching Marius skate. And I get along with everyone. I definitely like to chill with Al. Daryl's got a funny sense of humor. Damn, I don't know; they're all super cool. What's your gnarliest Fred Gall story? I've got to put a little censorship in here. I'll just say, Fred is amazing. Fred, you're the s**t! What happens around Fred Gall stays around Fred Gall. In your opinion what does it take to go pro today? It's a combination of photo coverage, video coverage and a good relationship with your sponsors. From there, they decide what they want for their company. It all comes done to skating and progressing and trying to put your self out there. Thanks for the interview. Peace.

Ben Karpinski

This year's OIAM was the obvious choice. Tom Karangelov nollies into the future.

If you've followed Slap's One in a Million Contest over the past few weeks, it was fairly obvious after the first two days that there was one horse out in front. Spot to spot all over San Francisco, Tom Karangelov got tricks with ease and style. Though an honorable mention goes out to David Bowens for his street gap switch heel and his two dynamic switch 50-50s on rails, I'd say Karangelov had this contest locked from the get go. With the final video installment of the OIAM contest up today, Slap dubbed Karangelov this year's big winner. He's already caught the eye of Jamie Thomas and is getting boards from the Zero squad as I type this. Don't look for Tom to be slowing down any time soon, either. Back in So Cal, Karangelov is still on fire getting photos, tricks and making things happen. Look for a feature interview with the young upstart on Slap in the coming weeks and maybe even a Q and A with him right here on ESPN Skateboarding sooner than you think. Hopefully Karangelov will follow in the footsteps of previous OIAM winner, Jake Donnelly, who's taken that initial spark and turned it into a proper career riding for Real and getting things done.